Formula one '97
Formula 1 Championship Edition is a Driving game, developed by Bizarre Creations and published by Psygnosis, which was released in 1997. ...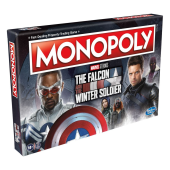 The Falcon and the Winter Soldier Board Game Monopoly *English Version*
Can you live up to Captain America's legacy in a post-Blip world? In the Monopoly: Marvel Studios' The Falcon and the Winter Soldier Edition game players go around the board buying up 3 different types of properties: events, hostile forces, and Wakandan tech. Once you control color sets, you can double the rent and add Captain America Stars and Shields to charge even more rent. The last player with money when all others have gone bankrupt wins. This is a fun board game for a family game night and it's a great gift for Marvel fans ages 14 and up. Includes gameboard, 6 cardboard Character tokens (with plastic bases), 22 Title Deed cards, 16 The Legacy of the Shield cards, 16 the Flag Smashers cards, 44 cardboard Captain America symbols (32 stars, 12 shields), 2 dice, Money Pack, and game guide. - Players: 2-6 - Recommended Age: 14 years and up - English Version...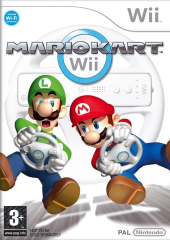 Mario Kart Wii
De volgende generatie Mario Kart baant zich een nieuwe weg naar de Wii! Nieuwe parkoersen, nieuwe coureurs (waaronder Mii-personages), nieuwe voertuigen en de mogelijkheid om met twaalf spelers te racen via de Nintendo Wi-Fi Connection staan garant voor de ultieme Mario race-ervaring! Ondanks alle nieuwe toevoegingen hoef je niet bang te zijn dat Mario Kart Wii de details uit het oog verliest. Al je favoriete kenmerken van de Mario Kart-serie zijn weer terug, zoals de klassieke parkoersen, cupwedstrijden, gevechten, versnellingen, 'ghost data'... Mario Kart Wii is meer dan een bijgewerkte versie: het is een doorbraak! Het is tijd voor een totaal nieuwe race-ervaring! De wereld wacht op je. Of je nu achter het stuur kruipt om online te spelen, in je eentje te racen of het thuis tegen maximaal drie vrienden op te nemen, je zult zien dat Mario Kart Wii een unieke ervaring is!...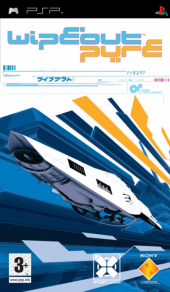 Wipeout Pure
Vlieg over de circuits van de toekomst in deze razendsnelle en stijlvolle racegame, die optimaal gebruik maakt van de unieke mogelijkheden van de PSP. ...

Harry Potter Card Game Memory Master *English Version*
- Players: 4+ - Recommended Age: 6 years and up - Playing time: 30 min - English language version...
Star Wars The Mandalorian POP! & Tee Box Child (Maat L)
Vanaf 17-09-22 op Voorraad From Funko's new 'POP! & Tee' line comes this cool set of a high quality t-shirt and an exclusive POP! vinyl figure (9 cm tall) only available in the set....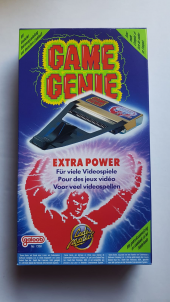 Game Genie (NES)
Met Game Genie kun je vele videospellen tijdelijk versterken. Bijvoorbeeld: beginnen in een andere wereld? Meer levens? Meer kracht? Meer snelheid? Het kan allemaal met Game Genie. Zelfs per speler kun je deze mogelijkheden kiezen! Werkt op de meeste spellen voor het Nintendo Entertainment System...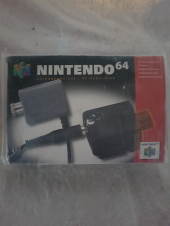 RF Module Nintendo 64 (Originele Verpakking)
Deze kabel kan je gebruiken als je TV geen AV aansluiting heeft....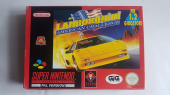 Lamborghini American Challenge (ITA)
Race over de eindeloze Amerikaanse snelwegen in de snelste sportwagen ter wereld, de Lamborghini Diablo. Race tegen een vriend of speel een toernooi waarbij achttien tegenstanders strijden om 's werelds grootste te worden!...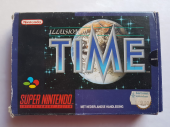 Illusion of Time (HOL)
Reis naar de donkere kant van een oude beschaving. De Chaos Comet straalt een onheilspellend licht op zijn pad uit en bedreigt het bestaan van de planeet. Slagen barsten los en een voorlopige vrede wordt teruggegeven aan het land. Gevaar schuilt als de Chaos Comet banen en vreselijke beesten liggen te wachten. In het tijdperk van verkenning wordt een jongen genaamd Will geboren. Tragedie slaat toe tijdens een expeditie naar de toren van Babel die Will van zijn vader scheidt. Telekinetische krachten ontwaken als Will terugkeert naar Zuidkaap. Gewapend met zijn transformatievermogen van twee grote krijgers, moet Will de planeet redden. Gaia, Will's leidende geest schenkt magische krachten en advies tijdens zijn reis. Met de hulp van zijn vrienden moet Will meedogenloze vijanden bestrijden en de puzzels van de oude ruïnes oplossen. Geduld en kennis zijn essentieel om deze vader en zoon te herenigen....